Replacement Cells Guaranteed To Work.
Superior Design For Better Play
1 Year Full Warranty – email & phone support
Check Tabs For helpful information. Our Blog has the latest tips and info.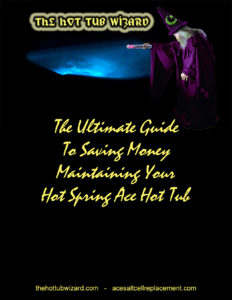 The Wizard has helped hundreds of people with their salt hot tubs since 2008 and he can help you too.
Replacement Cell For All ACE Models
Replacement
ACE® Cell (Aftermarket)
NOTE: CANNOT BE PLACED INSIDE FILTER LIKE ORIGINAL. IT WILL ONLY WORK SITTING OUTSIDE THE FILTER.
1 Year Warranty
Instructions & Tips For Extending Life Download At Purchase
ACE® Hot Tub Salt Cell Replacement for Hot Springs
ACE® System
Guaranteed To Work

With All ACE Models
ACE® is a registered trademark of Watkins Manufacturing Corp., makers of Hot Spring® spas. Pool Spa Efficiency LLC is not affiliated or endorsed by Watkins in any way.